BCD Misdiagnosis and Underdiagnosis
Misdiagnosis (hence underdiagnosis) is a problem that many BCD patients have experienced. Researchers suggest that Bietti crystalline dystrophy (BCD) may be underdiagnosed because its symptoms are similar to those of other eye disorders that progressively damage the retina. Mataftsi et al 2004 reported that only one out of six BCD patients was correctly diagnosed initially.
BCD Correct
Diagnosis Rate
Bietti's Crystalline Dystrophy (BCD) is sometimes described as "sparkling retina" by eye doctors due to the presence of yellow or yellow-white, refractile/shiny crystals and/or complex lipid deposits in the retina (and in some cases also in the cornea). 1 Although  retinal crystal is a key characteristic of BCD, it cannot be used as the only clinical feature to diagnose BCD. First, there are other diseases which also have retinal crystals. Second, not all BCD patients have this clinical manifestation. In addition, BCD shares similar clinical phenotypes with some other retinal diseases and may be misdiagnosed as:  2 3 4 5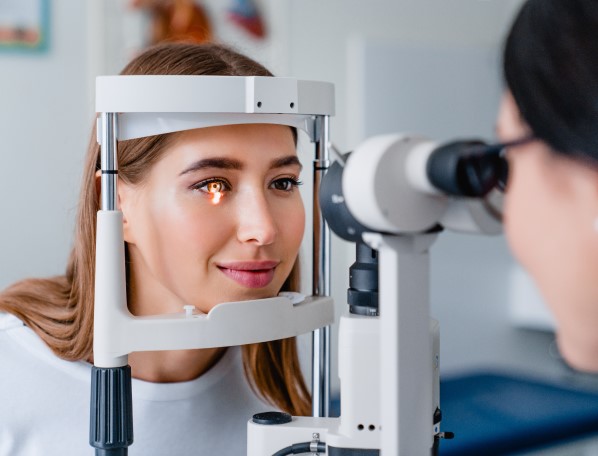 1.
Retinitis pigmentosa (RP). The clinical symptoms and findings on visual field testing, electrophysiologic studies, and degeneration of the retinal pigment epithelium (RPE)/choroid in Bietti Crystalline Dystrophy (BCD) are similar to those of other forms of retinal degeneration that fall under the category of retinitis pigmentosa (RP) and allied disorders. In addition, the crystalline deposits in the retina may not be obvious, especially in early-and advanced-stage BCD patients. Therefore, even doctors who have experience in diagnosing BCD may sometimes still misdiagnose BCD.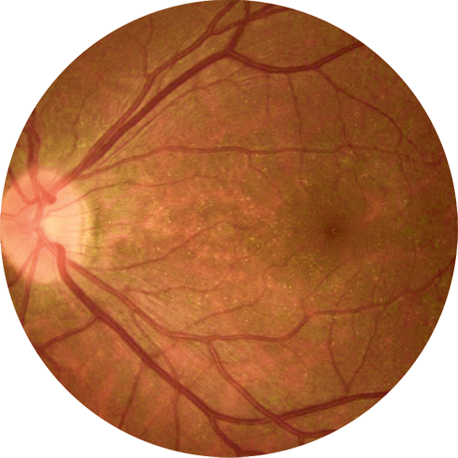 2.
Choroideremia. BCD and choroideremia share the symptom of progressive chorioretinal degeneration. 6
3.
Other retinal diseases which also have refractile crystal-like deposits in the retina, for example:
Stargardt Disease (SD) group 3
dominant forms of RPE65
RDS – PRPH2 form of retinitis pigmentosa
Other Crystalline Retinopathies. Crystalline deposits in the retina is not unique to BCD and may be associated with the following:

Primary hyperoxaluria type 1 and type 2
Cystinosis, particularly the more benign adolescent presentation
Sjögren-Larsson syndrome 
Infectious Crystalline Keratopathy
Drug toxicity (e.g., tamoxifen, the anesthetic methoxyflurane, the oral tanning agent canthaxanthine)
Drug abuse (talc retinopathy)
4.
Late-Onset Retinal Degeneration (LORD)
5.
Some BCD patients reported that they were advised by the doctors that they do not have an eye disease at all and the crystals or abnormal appearance in their retinae are due to:
Pollution, or
Unhealthy diet
Suggestions on how to improve correct diagnosis of BCD
Diagnosis
For example, researchers suggest using infrared imaging technique to enhance observation of retinal crystals in BCD. 7 8 In particular, hyperreflective appearance on near-infrared reflectance (NIR) imaging has been reported to yield 100% sensitivity and 100% specificity in diagnosing BCD among patients with chorioretinal dystrophy accompanied by crystalline-like deposits; 9
Genetic Testing
Identification of biallelic mutations in the CYP4V2 gene by molecular genetic testing can confirm the diagnosis if clinical features are inconclusive. Indeed, molecular genetic testing such as next-generation sequencing (NGS) is an invaluable tool for an accurate clinical diagnosis of inherited retinal diseases, including BCD. To date, more than 100 mutations in the CYP4V2 gene has been identified among BCD patients.
Roth, B., Weng, C. (2019). Spotlight Case: Two Sparkling Retinas. American Society of Retina Specialists.
https://www.asrs.org/education/spotlight-case-two-sparkling-retinas
Bietti Crystalline Dystrophy, Mauricio Vargas, MD, PhD, Amanda Mitchell, MS, CGC, Paul Yang, MD, PhD, and Richard Weleber, MD, DABMG, FACMG. GeneReviews®
https://www.ncbi.nlm.nih.gov/books/NBK91457/
Bietti's Crystalline Dystrophy, EyeWiki, American Academy of Ophthalmology, Eric Zhang, Stephen C. Dryden, M.D.,
https://eyewiki.aao.org/Bietti%27s_Crystalline_Dystrophy
Crystalline retinopathy: Unifying pathogenic pathways of disease, Jaclyn L.Kovach MD, HacerIsildak, MD, David Sarraf, MD, Surv Ophthalmol. 2019 Jan – Feb;64(1):1-29.
Ophthalmologists with experience in diagnosing inherited retinal diseases, including BCD
Katagiri S, Hayashi T, Gekka T, Tsuneoka H. (2017). A novel homozygous CYP4V2 variant (p.S121Y) associated with a choroideremia-like phenotype. Ophthalmic Genet;38(3):286–287.
Yanagi Y, Tamaki Y, Fukushima H. (2003). Fine retinal crystalline deposits observed by confocal scanning laser ophthalmoscopic examination using infrared light. British Journal of Ophthalmology; 87:509-510.
Brar VS, Benson WH. (2015). Infrared imaging enhances retinal crystals in Bietti's crystalline dystrophy. Clin Ophthalmol;9:645-8.
Oishi A, Oishi M, Miyata M, et al. (2018). Multimodal imaging for differential diagnosis of Bietti crystalline dystrophy. Ophthalmol Retina;2(10):1071–1077